Registration fee is $74.95 with our new full-color, interactive e-book or $99.95 with an e-book and a printed book
This class qualifies as outdoor survival training and certification and is utilized by not only pet owners but search and rescue teams, first responders and more. It is designed to teach the average person how to administer emergency first aid to a dog in remote areas or during outdoor activities where such injuries are at a higher potential risk until veterinary care can be ascertained. Please be aware that this class overlaps with our Canine and Feline CPR and First Aid class therefore about half of the curriculum is the same.
Purchase a printed book and/or pet first aid kit with your registration. Orders containing more than one retail item may arrive in multiple shipments. Retail items take 5-7 business days to be received.
Add a Deluxe 60pc Veterinary Approved Pet First Aid Kit to your Registration for an additional $59.95
*Limited Time Special* Purchase a Deluxe Pet First Aid Kit for $59.95 and get a Portable Travel Pet First Aid kit 50% off the regular price of $39.95!
Preregistration ends 3 days prior to the class. A $5 late fee will be charged on any registrations received after the preregistration date.
Zoom login information will be sent to you in your payment receipt after you have paid.
This is an interactive class with a live instructor.
Participants are required to have a stuffed animal to practice on, a good internet connection, video and audio access. Instructor MUST be able to view everyone in attendance.
Attendance and participation in the class is required for certification.
Only paid participants will be allowed to view the presentation. Make sure you pay for each person that will be in attendance.
Everyone must have a laptop or desktop computer with monitor to be able to view the presentation. Smartphones are greatly discouraged as the screen is too small to view the presentation.
If multiple paid participants are at the same location they may share the same device to attend the class however the instructor must see everyone clearly in the video window on zoom.
Class combines lecture, Q&A session, and interactive hands-on portion with feedback from the instructor.
Instructors are credentialed veterinary technicians and classes offer not only RACE approved CEU but certification in animal CPR, First Aid, and emergency response. We teach the most current method of animal CPR endorsed by the veterinary industry.
Registration Includes: An official certificate, a 2 year membership to our online Animal Emergency Resource Center, your choice of the 90 page full color class manual either as an Ebook (View Only/Cannot be Printed) -the wilderness manual does not come in a printed version however you may purchase a printed copy of our Canine and Feline CPR and First Aid Reference Guide which contains similar material (additional $24.95). Businesses, organizations and groups may request a professional, frame-able certificate and window decal, to hang in their place of business to promote that their staff/members are certified. Certificates are available for downloading and printing within 72 hours after the class is held in your membership account. Our office must confirm with the instructor that you did attend and pass all of the requirements for certification.
__________________________________________________________________________________________
The skills and topics covered in this class include:
Safety techniques when working with injured dogs
How to perform emergency triage and assess if an animal is experiencing a life-threatening medical emergency
How to restrain and properly transport sick and/or injured dogs
How to provide emergency first aid to dogs en-route to veterinary care
Obtain vital signs (temperature, pulse, respiration, CRT) and determine normal vs abnormal readings
Learn about the importance of the wilderness canine first aid kit and emergency supplies needed when engaging in outdoor activities with a dog.
How to use the materials in it during an emergency in remote areas, on trails, in the water and more.
How to manage and provide first aid for many common medical emergencies such as severe wounds, lacerations, fractures, heat stroke, snake bites, poisoning, burns, choking among many other conditions.
An overview of Cardiopulmonary Resuscitation on dogs will be presented however this course does not fully train nor certify the participant in pet CPR. Please attend our Canine and Feline CPR and First Aid class for complete training and certification in pet CPR.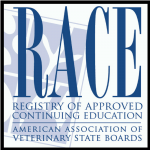 This program 20-912136 is approved by the AAVSB RACE to offer a total of 0.00 CE Credits (3.00 max) being available to any one veterinarian: and/or 3.00 Veterinary Technician CE Credits (3.00 max). This RACE approval is for the subject matter categorie(s) of: Category One: Scientific using the delivery method(s) of: Seminar/Live Instruction. This approval is valid in jurisdictions which recognize AAVSB RACE; however, participants are responsible for ascertaining each board's CE requirements"
About the Instructor
Amy D'Andrea MEd, RVT, CVT, VTS(EVN)
Canine and Feline CPR and First Aid, Canine and Feline CPR and Advanced Life Support and Canine Wilderness Emergency First Aid classes
Amy has been a credentialed veterinary technician for over 28 years and holds registrations and certifications in multiple states.  She has both her Associates and Bachelors Degrees in Veterinary Technology and a Master's in Education.  Amy completed training at Cornell University Veterinary School in canine and feline basic and advanced life support, earning a certification by the American College of Veterinary Emergency and Critical Care.   Most of her career has been dedicated to educating veterinary technicians working in numerous AVMA Accredited Veterinary Technology programs specializing in topics such as large and small animal nursing, veterinary practice management and equine sports medicine. She achieved the rank of Associate Professor and has become a renowned speaker, and author of 5 textbooks. Amy is proud to be the recipient of the Teaching Excellence Award, Distinguished Alumni Award and the Hill's Scholarship and served on the Executive Board of the National Association of Veterinary Technicians in America in many positions including President in 2006.  Additionally, Amy served on the organizing committee for the Academy of Equine Veterinary Nursing Technicians and was the chairperson for the Committee on Veterinary Technician Specialties for a number of years.