Learning Objectives:
Difference between domestic reptile species
Safety techniques when working with sick and/or injured reptiles
How to perform emergency first aid on a reptile experiencing a life threatening medical emergency
How to restrain and properly transport sick and/or injured reptiles
Learn about the importance of the pet first aid kit and how to use the materials in it during an emergency
How to manage and provide first aid for many common medical emergencies such as burns, wounds and more.
Course participants will receive the following:
An official certificate will be awarded upon successful completion of the final exam. It may be printed immediately at the link in your profile section.
2 year subscription to the Pet Emergency Education Online Resource Center
Access to the Merck Veterinary Manual online and other professional resources that can be used to compliment the training.
---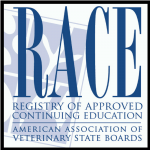 "This program 20-769747 is approved by the AAVSB RACE to offer a total of 0.00 CE Credits (0.00 max) being available to any one veterinarian: and/or 1.00 Veterinary Technician CE Credits (1.00 max). This RACE approval is for the subject matter categories of: Category Three: Non-Scientific-Practice Management/Professional Development using the delivery method of Non-Interactive-Distance. This approval is valid in jurisdictions which recognize AAVSB RACE; however, participants are responsible for ascertaining each board's CE requirements. RACE does not "accredit" or "endorse" or "certify" any program or person, nor does RACE approval validate the content of the program." 
1 Professional CEUs to licensed vets (click here to read our continuing education policy for veterinary professionals)