Each participant will receive an official certificate upon completion of the course. The link to access the certificate will be listed in your certificates in your account. You can also print it by going to the main page for the course in your Profile.  If you are a professional that needs continuing education, the certificate will serve as your continuing education certificate as well. To print the certificate we recommend printing them on card stock for durability.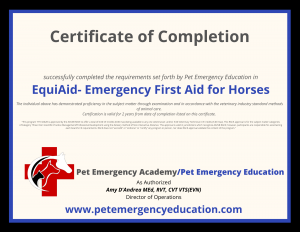 Barn Certificates
Any equine business can request a barn certificate upon completion of the course.  The certificate can be hung up in the facility to show their customers and clients that their staff is certified. 
Lobby Certificates can be purchased after successful completion of the course.