Get Started
This course is currently closed
Pet Emergency Academy Instructor Portal for Educators
As a certified instructor, you have access to a wide variety of resources including your teaching material within this portal to use to teach classes to your students. Through this portal, we will continue to provide support to you. We strive to make sure the portal is updated regularly and if at any time we update our teaching materials, you will be provided with the most current files here in the portal.
Use the form on the Enroll Student page in this portal to enroll your classes of students.
At Pet Emergency Academy, we are unlike any other certification company. We were founded by a Credentialed Veterinary Technician with over 28 years of experience working in the veterinary industry.  She spent much of her career teaching veterinary nursing skills including  emergency and critical care, triage and animal physical assessment in higher education institutions and is also certified in Basic and Advanced Life Support by the American College of Emergency and Critical Care and Cornell University Veterinary School.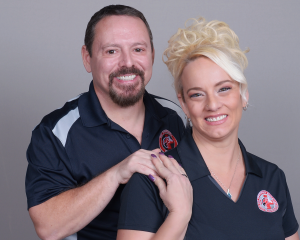 If you ever need anything at all do not hesitate to contact us!
Greg and Amy D'Andrea- Co-Owners
amy.dandrea@petemergencyacademy.com
Office 855-PET-CPR7/Amy's direct # 720-361-9993