Pet First Aid Informational Webinar for Corporations and Large Groups

Would you like a certified instructor to provide a live virtual informational webinar to your employees or members?
Pet Emergency Academy offers one-hour informational sessions covering Pet First Aid that are available to large corporations, military and school groups that wish to provide people within their organization an overview of the basics of pet CPR and first aid. 
These informational sessions are not certification classes nor full training programs but offer an overview of the importance of knowing pet first aid, provides basic information on pet first aid kits and supplies as well as information on how to help a dog or cat that has been injured.   
Presentations are live webinars with question-and-answer sessions with the instructor which can be hosted on our Zoom platform or any other webinar platform your company may use. Employees and/or members can log in to watch the presentation together or log in from their own devices from their office or at home. Excellent opportunity for professional development, enrichment or lunch and learn.
Sessions cost $500 and include:
A one-hour presentation on pet first aid as outlined above with a certified instructor with unlimited attendees from your organization.  
Live question and answer portion with the instructor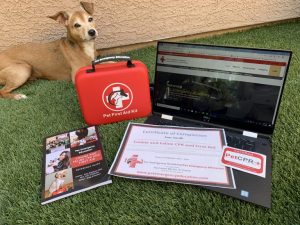 To preview a sample of our Pet First Aid Seminar please click on the video link below