Get Started
This course is currently closed
The Reptile, Amphibian, Avian and Small Mammal Emergency First Aid course is a program designed to teach the participant the importance of proper husbandry, handling, nutrition, and first aid for a variety of exotic pets such as birds, reptiles, amphibians, and small mammals.
Program Description: This course provides an overview on how to prevent and manage minor wounds, and emergencies that may present a life-threatening medical emergency that can occur with our exotic pets. It focuses on proper husbandry and nutrition to help prevent common ailments, and how to to apply first-aid techniques to either try to keep the animal alive or prevent its condition from getting worse prior to arriving at a veterinary facility.
Course expires 30 days from date of purchase
Begin your course by clicking on the links below. The course flows in order so you must complete the previous section before you can move to the next section.  At the end of each topic you must click on the green button at the bottom right corner of the page. This will verify that you have completed that topic and give you credit in the grade book. You can monitor your progress in the course by the progress bar at the top of this page and also in the side bar. You can log in and out as many times as you like but must complete the course in 30 days from date of purchase.
Quizzes and Exams
 This course has a quiz at the end of each module and a final exam at the end of the course. These assessments have unlimited attempts however you must pass each one with 100%. 
E-Books and Printed Books
You will be provided the link to access your ebook in the Course Introduction section. Ebooks are web hosted and can only be viewed online. They are not downloadable and cannot be printed. If you purchased a printed book they will be mailed to you within a couple business days from date of purchase. You will be emailed a tracking number when the book is shipped.
Click Here to Access Your Membership to the Animal Emergency Resource Center
Retail Items
Pet Emergency Academy has a collection of pet first aid and emergency supplies in offered for sale in its online store. Please click the link below to shop for high quality supplies for your pet. 
We would like to thank Tori Nelson LVT for her contribution in creating the curriculum for this program
_____________________________________________________
For technical support with your course, please contact 844-PET-CPR9 or support@petemergencyacademy.com
Please provide your name, order #, name of course you are enrolled in and a detailed description about the problem you are having. Our staff will reply within 48 hours.
If you are a veterinary technician and want to receive CE credit for completing this program we encourage you to create your free RACEtrack account with AAVSB. This site will sync to RACEtrack, the AAVSB's CE tracking system, and provide a seamless connection between CE providers, licensees, and regulators. You will be able to access all of your CEU in one location and submit them to your board.  Click Here to create an account.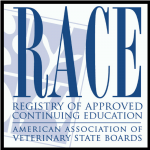 "This program 20-911502 is approved by the AAVSB RACE to offer a total of 0.00 CE Credits (0.00 max) being available to any one veterinarian: and/or 3.00 Veterinary Technician CE Credits (3.00 max). This RACE approval is for the subject matter categories of:
Category Three: Non-Scientific-Practice Management/Professional Development using the delivery method of Non-Interactive-Distance. This approval is valid in jurisdictions which recognize AAVSB RACE; however, participants are responsible for ascertaining each board's CE requirements. RACE does not "accredit" or "endorse" or "certify" any program or person, nor does RACE approval validate the content of the program." This course is NOT RACE approved for licensed veterinarians, only veterinary technicians.